Ayee! Es wird schwarz beim 31. Open Flair Festival in Eschwege. Die Spekulationen von gestern haben sich gelohnt, denn neben Kraftklub sind auch Olli Schulz und H-Blockx seit heute im Lineup vertreten. Da machen wir glatt drei Schüsse in die Luft.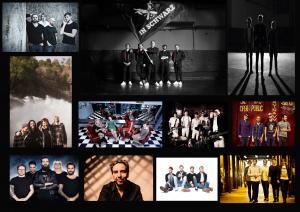 Durch zwölf weitere Bandbestätigungen erweitert das Open Flair sein Lineup für 2015. Neben den bereits bestätigten Künstlern, u.a. Dropkick Murphys, The Subways und K.I.Z., ergänzen Kraftklub, Katzenjammer, The Smith Street Band u.v.a. das Programm des nordhessischen Festivals. Dennoch sind Kraftklub einer der vielen Top-Acts! Insgesamt befinden sich nun 28 Bands aus der ganzen Welt im Programm. Bereits Anfang März geht es mit weiteren Knallern weiter.
Die Veranstalter waren die letzten Wochen deutlich auf dem Musikmarkt unterwegs und haben uns eine sehr schöne Welle zusammengebastelt. Neben dem bekannten Kraftklub befinden sich auch Perlen darunter, zum Beispiel The Smith Street Band. Fleiß wird belohnt, denn die 2010 gegründete Band hat sich mittlerweile einen Namen unter den Festivalbookern geschaffen. Schon 2015 werden sie uns beehren!
Kraftklub | Katzenjammer | The Adicts | Young Rebel Set | Olli Schulz | H-Blockx | We Are The Ocean | Atlas Losing Grip | The Menzingers | The Smith Street Band | Heisskalt | Tüsn
Hast du auch Lust auf das kommende Open Flair bekommen? Dann sichere Dir hier dein Tickets.